Competitor to Explorer
The danish newspaper Urban, which is a free newspaper available at almost every corner in Copenhagen, has a nice feature today about Mozilla Firefox. The headline says "Competitor to Explorer". Mozilla Firefox is mentioned on the frontpage and has a nice two column article in the IT section.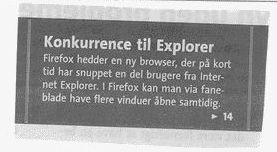 The article talkes about that IE has a new and very competent competitor. The new Mozilla Firefox 0.9 has in short time got a lot of users from IE. At first glace they look like each other but there's big difference under the hood. Tab browsning, pop-up blocker. The deal with Nokia is also mentioned.
For the danish audience read the full article.
June 28, 2004 10:44 AM | Posted in
Mozilla
Hehehe I read this on my way to work today, and my first thought was that, this i must email gemal :D
Comment by Dan Thrue at June 28, 2004 02:21 PM | Permalink
Et af de mest generende steder som dansk Firefox-bruger er www.pol.dk - den der lille Eniro-box ude i siden "blafrer" rundt på skærmen når siden er loaded...
Nogen der ved om det er en Firefox-fejl eller en Politiken/Eniro-fejl?
Tak for en god browser ;-)
Jens
Comment by Jens Røyen at June 28, 2004 08:11 PM | Permalink
Jeg har netop konverteret min 60 år gamle far til FireFox fra IE.
Det er fremragende.
Dog irriterer det mig at download vinduet ikke længere kan findes ved at trykke CTRL-E, men nu findes på CTRL-Y.
Ved nogen hvorfor det er ændret fra 0.8 til 0.9 ?
/mikkel
Comment by Mikkel at June 28, 2004 08:14 PM | Permalink
Jens:
Fejlen på http://politiken.dk skyldes bug 132337
Se http://bugzilla.mozilla.org/show_bug.cgi?id=132337
Mikkel:
Ja shortcutten til Download Manager blev ændret fra CTRL-E til CTRL-Y i version 0.9
Læs hvorfor her:
http://bugzilla.mozilla.org/show_bug.cgi?id=233440

Comment by Henrik Gemal at June 28, 2004 09:04 PM | Permalink
Post a comment