OpenOffice.org Mozilla Plug-in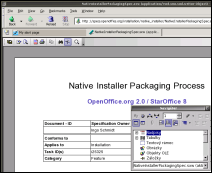 When an OpenOffice.org file is browsed in Mozilla, the display mode is like that of text/plain mime type, which is not the desired mode. On Windows, OpenOffice.org has already provided a plug-in for Internet Explorer (IE), which enables IE to embed an OpenOffice.org window to display the OpenOffice.org file, while this kind of support is missing for Mozilla. By providing a Mozilla plug-in, OpenOffice.org files can be displayed inside the Mozilla window just as the same way it is been browsed in the IE.
This is currently only available in the 2.0 developer release (1.9.54 currently). To enable it you have to go to the Options in OpenOffice.org. Then choose Internet and Mozilla Plug-in and enable it.
- Specification
- Blog entry
- Planet OpenOffice.org
Post a comment