Launchy 3.5.0 released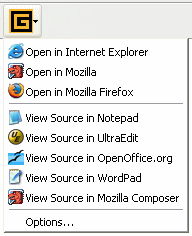 Launchy version 3.5.0 has been released! Launchy is an Mozilla, Mozilla Firefox, Netscape and Mozilla Thunderbird extension that will enable you to open current page, links, mailto, images and view source with external applications. Both browsers, media players, FTP clients, download managers and editors are supported. That's applications like Internet Explorer, Opera, Mozilla, Outlook, BSPlayer, Windows Media Player, GetRight and others. Screenshots.
What's new
- Fixed nasty bug where Launchy wouldn't launchy anything
- Image viewer support!
- Full version history
October 21, 2004 08:55 PM | Posted in
Mozilla
Great work. Launchy keeps getting better.

Comment by Jens Gyldenkærne Clausen

at October 22, 2004 11:13 AM | Permalink
Post a comment