Launchy 3.6.0 released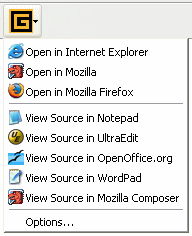 Launchy version 3.6.0 has been released! Launchy is an Mozilla, Mozilla Firefox, Netscape and Mozilla Thunderbird extension that will enable you to open current page, links, mailto, images and view source with external applications. Both browsers, media players, FTP clients, download managers and editors are supported. That's applications like Internet Explorer, Opera, Mozilla, Outlook, BSPlayer, Windows Media Player, GetRight and others. Screenshots.
What's new
- Fixed viewing source of URLs
- Fixed bug when right-clicking on image that is a link.
- Added IrfanView
- Added Polish locale
- Full version history
November 16, 2004 12:49 PM | Posted in
Mozilla
Related entries
What I don't get, is, that when i use the above link, Launchy install in... some Eastern European language...?
Comment by Michael Kjeldsen at November 16, 2004 05:52 PM | Permalink
Seems to be polish. I've this problem too, so this extension is useless for me!
Comment by Giampaolo Bellavite at November 17, 2004 03:04 PM | Permalink
Post a comment