Auto printable pages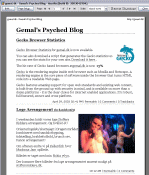 If you use a modern CSS-capable web browser, like Mozilla the pages of gemal.dk are now automaticlly printer-friendly.
This is done through the use of a print-media stylesheet! Just print the page or use Print Preview in your web browser to get the print styles on paper.
On the screenshot to the right you can see the print preview of the site. Notice that the site menu which normally appear at the right is gone. Click on the screenshot to get a larger version of it.
Technical stuff
The print stuff is done via the use of the following tag:
<style type="text/css" media="print">@import "css/print.css";</style>
This mean that when a user prints the page the stylesheet gemal.dk/css/print.css is loaded. This stylesheet override some of the stuff that I dont want to be printed like the menu to the right.
April 30, 2003 03:03 PM | Posted in
Site info
Post a comment