Work
I worked for a medium size Indian advertising company called Nexus Equity Advertising Private Limited. Indian companies are known for their very long company names!
The company is the 15 largest advertising agencies in Indian and is growing fast. They mainly concentrate on big clients. Their biggest clients are Raymond and Indian Airlines. Nexus Equity has offices in Bombay, Bangalore and in New Delhi.

At work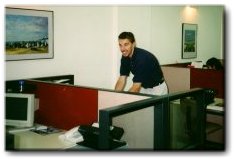 Me in action at work. This is at Better Communications, which is a company owned by Nexus. We all had our own little cube with computer. And yes, the company had chairs.

My expectations
In the work specification that I got from AIESEC before I left Denmark it said that my day to day responsibilities would be spending time with different departments within the organization to access their requirements of, availability of and familiarity with information technology in their functional areas.
Furthermore I was to interacting with top management to share evaluation and recommend course of action to make information technology an integral part of the organization. The sound of it all has a mixture of excitement, difficulties challenging. The reality turned out a little bit different that the above statement.
The project that I was intended to work on was to assist in the development of a Document Management System (DMS) for Nexus Equity and oversee its implementation. The DMS would make all documents within Nexus Equity available online. It would be a network based system and would include incoming as well as outgoing documents.
Lunch break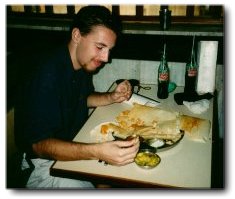 Only the very big companies in India have a canteen, so every day I had to eat out. This usually meant going next door to the wonderful restaurant called Shuba, if I remember correct.
Here I am eating my paperdosa with my Coke. The Coke was served automatically when I entered the restaurant.

Better Communications
I was assigned to a small company owned by Nexus Equity called Better Communications. Here I got my own little cube and off course a computer with modem and an Internet account. India is not always an underdeveloped country without any technology! If I had to live without my E-mail for ten months, I would have died.
Better Communication is headed by Shashank, which is an extremely helpful guy. He helped me with everything from getting my residential permit (which is not an easy thing) to giving me a TV. Two of my good friends from India also work there. Rajesh and Hitesh. Thanks for all the help, guys!
Well to get back to my actual work. I don't think Nexus was willing to use what was needed to implement such a system, because my work was pretty fast cancelled and forgotten. Instead of just sitting around I tried to get involved in as many projects as possible. So I soon began working on some Internet stuff, helping with setting up their NetWare 4.1 server and workstations.
Different... yes, very
Working in an Indian company is very different as to working in Europe. Many times you get very frustrated because everything takes so much time. An example: getting my business cards took a little more than 3 months. In the old traditional Indian companies everything has to be accepted and signed by the managing director. Everything to buying a pencil. From working in Denmark I'm used to using a lot of pencils, a huge amount of paper, and at least 2 disks a day, not to speak about the photocopier!

Conclusion
In conclusion you can say, that I didn't learn that much professional. By that I mean all the theories about software development, improvement, etc. But on the other hand I learned so much else, that it don't bother me at all, and I would do it all over again if I got the possibility to go back into time.
Would I go back for another traineeship in India? No I don't think so. I think when you done one traineeship it's time to move on. You can't live forever doing traineeships. The pay you get in India for a traineeship only makes it possible so stay alive. So be prepared to throw some money in yourself.

After my traineeship
My traineeship at Nexus ended in April 1996. I had got an offer to help starting a small Internet company in Mumbai producing web sites for Indian companies. Well we set the thing up, but never really got started because of all to many different reasons to write here. Produced a couple of homepages, but nothing really fancy. But I had fun. Getting money for what I love doing!