Life
My apartment or should I say room
I wouldn't call my stay in Bombay a luxurious one. That wasn't the intention either. I stayed as a paying guest in a small room at a family called Anand on Nepaen Sea Road in Malabar Hills. Malabar Hills is normally associated with the more exclusive, but I think we were the exception.
In the start I was a bit shock. The room was, how should I put it, different from what I expected. But I got use to it after a couple of weeks. In the start I shared the room with another Danish girl, Karina. She was a trainee at the Times of India.
Technobed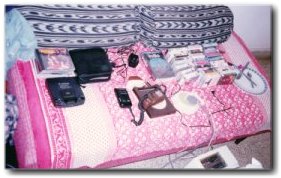 I got a television from my company, but was not permitted to use it since it used too much electricity was the explanation I got from my tenant.
The extra bed was used as an electronic storage. Two Discman's, 2 Walkman's, speakers, shaver, battery charger and toaster.

On the other side.....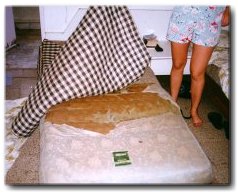 Hmm.. first of all you don't want to get any details of how it looked on the other side of the big mattress. This is normally the first picture to fax home. You know.. to get more money! You might ask: was it really that bad? Yes, but only in the start.

The Bathroom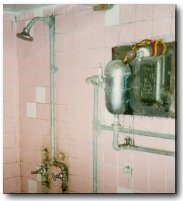 It's always funny to show people my bathroom. First of all, the whole apartment hadn't been cleaned for 5 years. That means that everything had a 1 cm layer of dirt on it. As you can see on the picture that was true for the shower too.
Please note our big 1 liter water heater. A real monster. After a month or two of practice I was able to take a 20 minuets long shower using only the small damn heater. All the yellow and red stuff stinking out of the heater is of course: yes, you guessed it right, the electrical cords!

The Big Closet!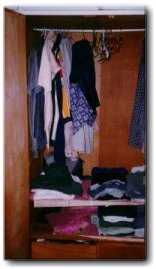 To keep all our clothes we got one small closet. For two people (one of which was a girl), get real. But that was what we got. The first month or two we were not allowed to use the washing machine. So that meant washing everything by hand. Wow that's tough. Do I have to refer to the water heater again?
After 30 seconds in the room, you felt bored. This forced us to go out a lot. But you don't always just feel like going to a bar or restaurant so in the end we were pretty good at inviting us over to people to watch TV, etc.

Sports Activities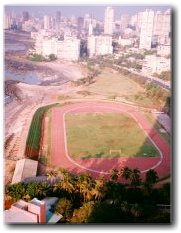 I did a lot of sports while I lived in Mumbai. Mumbai is a very polluted city and the term green areas is not widely known. The only places you normally can go to play sports are the old British Clubs, which you have to be a member of to enter.
On the picture you can see the field from the apartment I lived in the last 2 months in India.

Soccer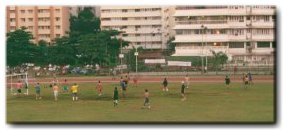 One day I was told them some Indian guys were playing soccer every Tuesday and Thursday. I've played soccer in Denmark since I was 6 years old so I was very interested. So I joined them. We played at a field very close to where I lived so no problemos with transport.
Every Sunday we played real match. Here I am on the field scoring on of my many goals!

Badminton and tennis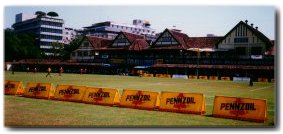 One of the guys from a Danish company called EAC (East Asiatic Company) Graphics were a member of one of the British clubs, Bombay Gymkhana. So every Wednesday, or as often as possible, we played badminton or tennis there. Well he beat me badly in badminton so I tried sticking to tennis, where I normally won. On the picture you can see the club during one of their soccer tournaments, which the Danes usually won!

Our Stressed Sundays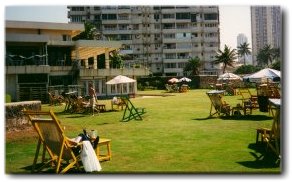 A very nice way to spend a Sunday is to go to the Breach Candy Club. This club is only for members or holders of foreign passports. Here you have an extremely large swimming pool, table tennis and a perfect opportunity to get a tan.

Small pool... nah!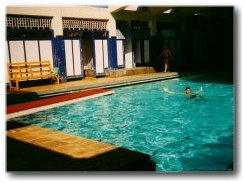 Don't worry. This is only the small indoor pool. The outdoor pool is about 10 times bigger.
This is also the final proof to my brother: Yes I could float even before I got salmonella. The stomach infection, you know. And the fighting with my arms is not to stay up, but I'm trying to wave to the camera, I swear!

Osho Ashram

Just outside Mumbai in a town called Pune is the Osho Ashram. We were there, and found out that swimming isn't the only activity going on there!
Basically this guy says black is white and white is blank. It's all very cryptic.
The name Osho is derived from a meaning of Oceanic, which means dissolving into the ocean. Oceanic describes the experience.

More info...