Christmas
Preparation
What do you do when you 10.000 miles away from home on Christmas? Well.. you adapt!
On the 23 of December Peter and I thought that we probably should work out what to do for Christmas. A bit late but what the heck. I'm used to -5 degrees and snow at Christmas, so I just didn't have the real Christmas spirit at 40 degrees and nothing but pure sun. We called Thomas and that was the start of my small Christmas story.
The Chefs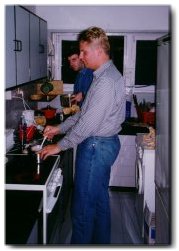 On the 24 of December we, Peter and I meet at Thomas's place. The first thing to do was to go and buy all the necessary ingredients. Well.. in Mumbai is very though getting the very essentials in a traditional Danish Christmas dinner. But anyway, we got almost everything. We even got ourselves a special imported Chinese duck, which was prepared accordingly to the recipe we got faxed from Thomas's mother.
On the picture you can see Peter and Thomas is the kitchen. Peter is making his all time famous Ris a'lamande, which became surprisingly good!

The Table Before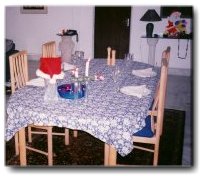 Please note in the background the nice Christmas decoration, next to the lamb. This later becomes a hazardous one, when Thomas thought that we should have burned pine smell in the apartment. Well.. he lit the decoration. I just want to mention that his decoration hadn't seen any water for the last 50 years. The whole thing resulted in a mayor fire that totally destroyed the decoration. Don't worry nothing else burned!

The Final Proof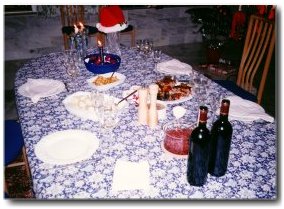 This picture is the proof of our dinner. Actually the is one a picture of one of the courses. We had three!
Please note that we had everything to complete a Danish Christmas dinner. This includes brown potatoes, white potatoes, duck, red cabbage, red wine and our special brown gravy which we made from a 2.5 liter bucket of gravy coloring! Well.. let me say we didn't use it all, but 2.5 liter was the smallest one we could buy!
For dessert we had Peters Ris a'lamande (like rice pudding), with a gift of course. A Danish tradition, I think?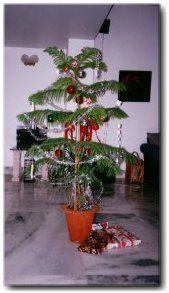 Christmas tree
It's not Christmas without a Christmas tree. How are we got to get a Christmas tree in Mumbai on the 23 of December. Well as you might see on the picture, we did get a tree. I wouldn't call it a real Christmas tree, but for us it was quite ok.
Please note one thing on the picture. How many presents do you see? Who do you think was the only one bringing any Christmas gifts? You got it right: me. Isn't it sad!
And Peter was very thrilled with the electrical extension cord that I gave him.

Santa Claus was there!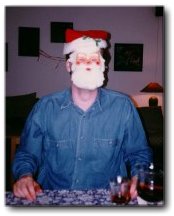 It's true he was there. I was so quick that I even got a picture of him. All in all, we had a very different and special but wonderful Christmas.