Goa
First of all, Goa is not a place filled with old hippies, technoraves and drugs all over. But, yes there are weird foreign people still living in the 60's walking or should I say flying around there.
Francois and I drove to Goa with a friend of mine. He had some family in Goa, so we could use their apartment in Panjim.
The ride down there was pure hell. I thought I was going to die least 1000 times. Imagine this: driving 100 km/h in the mountains where trucks buses and other vehicles are passing and overtaking in ways you can't even imagine. To all this add a bad, bad driver. (He was fired when we came back!) My advice: if you're going to travel long distances in India, use airplanes. Driving on the Indian highways will normally be called suicidal.
Beaches of Goa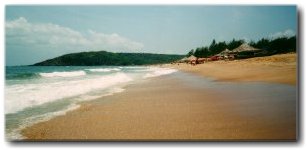 When you arrive from Mumbai, with it's dirty beaches and seawater, the beaches of Goa are almost like Hawaii's. Here you have large and nice sand beaches, with small huts along the beach selling food and fresh fish.

More beaches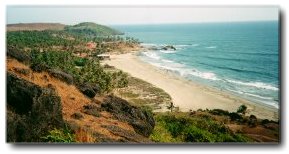 Top view of one the many beaches in Goa. Up here were the ruins of an old Portuguese fortress. Goa was a part of Portugal until 1961.

That damn car!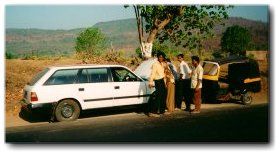 Yes.. we had a lot of trouble with the car. On our way back the car just wouldn't drive anymore. There we were, stranded in the middle of nothing.

The native place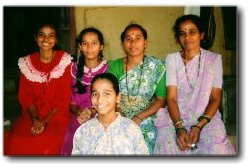 On the way down to Goa we stopped at Kamlesh's native place. His uncle and aunt (I think) lived here where their kids (girls). This place must be the perfect place to relax. The one worry in life here was mango fruit. And there were mango fruit all over. We got mango for breakfast, dinner, etc. But that no problem, because mango taste great. I really think I could live of mango for the rest of my life.

Silence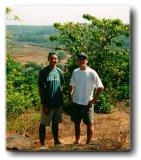 The first thing you notice when you get outside Mumbai, is the quietness. In Mumbai there's always people, noise, and constantly activity. Then is nice getting to a place where the only
Here Francois and I are at a small hill just behind the house, having our relaxed look.

The Jack Fruit House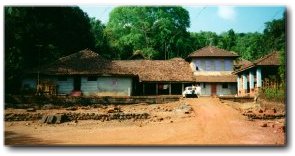 Here I got the weirdest fruit I've ever tasted, the jack fruit. First of all the fruit grew on trees that looked like a normal beech tree. Second the fruit had the taste and feel of banana chewing gum! I know it sound very strange, but that's the truth!