Delhi and Agra
When my father visited me in India, we had planned to go and see Taj Mahal. And so we did. Seeing Delhi and especially Taj Mahal is a must if you visit India. Well we flew to Delhi with Indian Airlines. Not the best airline company in the world, but we got there in one piece.

Taj Mahal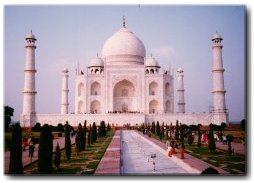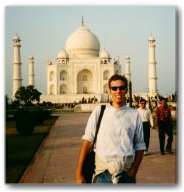 This is one of the world 8 wonders. And it's very impressive. It was so much bigger than I ever expected. I spend an afternoon at Agra, where Taj Mahal is located. Beside the Taj, Agra also has the Red Fort.

Luxury bus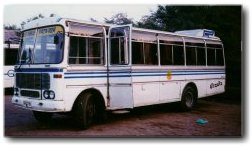 Here you see our luxury bus with air condition. This is the bus we drove from Delhi to Agra in. The ride only took 8 hours so it wasn't that bad. After a while in India, you get used and actually enjoying riding in a bus like this. No kidding!

Red fort in Delhi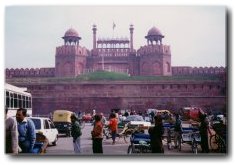 The red fort is build around 1640. It's a huge building with any small and beautiful rooms, private champers, etc.

Head protection

Here we are, my dad and me in front of a Sikh temple in Delhi. One could not enter the temple without wearing a scarf around your hair. And of course you also had to remove your shoes.
This temple was not on our tour but was a small local temple that our driver used when praying.

Lakshmi Narayan Birla Temple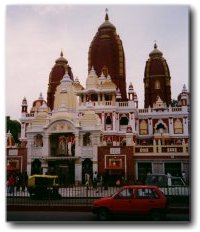 Since I didn't write down the name of the temple I'm not 100% sure that this is the right name. If it is the right name, it's erected by the industrialist Birla in 1938. It's dedicated to Lakshmi.
It's a pretty weird and modern temple to look at but it has it's own beauty.