Rafting in Nepal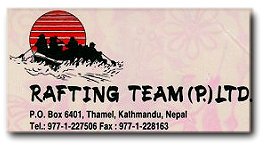 If you need a good rafting team, I can only say that our team where great. Cool guides, excellent food, pretty good equipment.
We choose Sun Kosi as our river of choice. Since none of us had tried river rafting before we didn't choose the wildest one, but we didn't want to miss any action either. The Sun Kosi is one the world top 5 rivers. It's 270 kilometers long and takes around 10 days to raft.

Before Sun Kosi
Early morning in Kathmandu in front of the truck that took us to the start of our 12 days of rafting.
We just signed the contract saying that we can't do the company anything if we die! That's why Peter looks so serious. This could be the last evidence of our life.

After Sun Kosi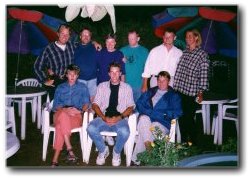 The hard-core team, the pros, the ultimate thrill seekers. The team that did it and survived!
As with all teams, a funny mixture of people. Peter and I probably annoyed the first 7 people to death.
And we all remember the affair between ..............!!!

Old people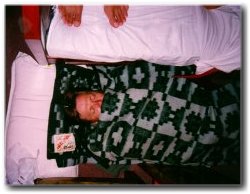 This is the evidence of a man that just crashed! Per, the true leader of the older part of the rafting team, knick named the Larsen Rejser Team, is here seen taking a serious nap.
To his defense I have to say that we were drinking very heavy that night! We even got away with a rather big Tuborg banner from the local pub!

Chicken tonight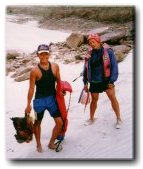 We have just been across the river to buy ingredients for tonight's dinner. And the rafting team choose chicken.
These dudes are tough.

The first rapid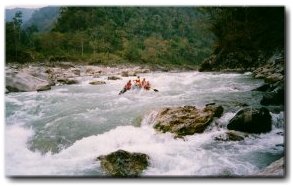 The first rapid is of course something special. We all survived, but this was just the start.
After one of the biggest rapid, we decided to do the rapid again. So we carried the boat back before the rapid and took the rapid again! Way cool.

More rapids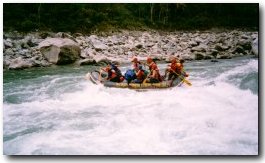 We didn't get disappointed with the numbers of rapids. There where plenty. At one of them it almost went wrong. One guy Per got thrown overboard but luckily he went all the way under the boat and appeared on the other side 2 seconds later. Talk about luck!

The rafting crew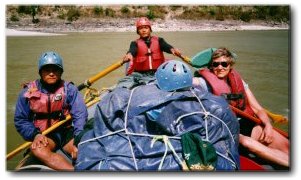 Here you can see two of the three crews that where on the trip. These guys are amazing. Simply amazing.
As you can see all out stuff are put away in waterproof gear